TRAVEL SUMMARY
Day 1.- Transfer In. Dinner
Day 2.- Biking in The Quito Historical City And Middle Of The World Tour
Day 3.- Quito-Cotopaxi National Park- Horseback Riding-Baños
Day 4.- Rafting-Pailon Del Diablo
Day 5.- Baños-Salasaca Community-Rose Farm-Quito
Day 6.- Quito- Guango Lodge- Papallacta-Quito
Day 7.- Transfer out.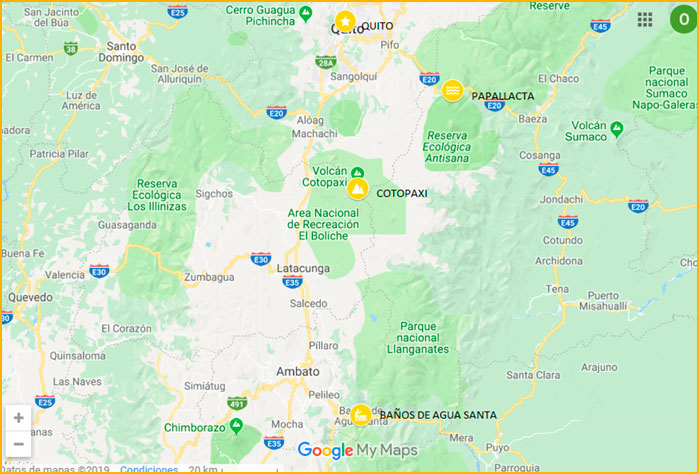 Included
• 6 nights' accommodation and breaksfast
• Tourist transport
• National guide in Russian.
• Entrances to the places described in the program (Compañia Chuch, Middle of the World, Intiñan, Pailon del diablo, Rafting, Horseback riding, bicycle in Quito, Salasaca Community, Rose Farm, Guango Lodge, Termas de Papallacta)
• Breakfast as mentioned in the program.
• 5 Lunches and 6 Dinner described in the program
• Local hotel taxes
Not Included
• Meals, drinks and extras not mentioned in the program.
• Tips
• Additional tours
• expenses
• International flights
Day 1: TRANSFER IN.
Private transfer from the airport to your hotel in Quito Htl. Reina Isabel
Russian speaking guide included
Dinner, with an authentic Andean musician group!!
Day 2: BIKING IN THE QUITO HISTORICAL CITY AND MIDDLE OF THE WORLD TOUR
After the Breakfast , you start the biking tour from your hotel to the Old Town of Quito, enjoying the change from the modern area to the old town, the first stop is the alameda park, the first one of Quito's city, after you continue to Basilica Church icon of Neogotic style of Ecuador, later you go to the main square (Plaza de la Independencia) where you see the president palace, the Cathedral, city hall, and the archbishop palace, you will visit the Compañia of Jesus church the most beautiful church and icon of barroc style of south America, also you go to San Francisco square where you visit the church and the convent; after the biking tour, you will have your lunch in a very beautiful restaurant in the old town of Quito.
After the lunch you will drive to the Middle of the world monument where you be 0° 0' 0", and visit the Intiñan Museum which is an interactive museum where you can balance a rough egg on top a nail, also you will receive a certificate that you have been in the Equator line with an affective toast. Dinner included.
Day 3: QUITO-COTOPAXI- HORSEBACK RIDING-BAÑOS
Breakfast. You go to the highest active volcano of the world the COTOPAXI volcano, where you will start with a horseback riding in a beautiful ecosystem call "Páramos" (grassland) located from 3500m to 4000m above sea level, where you enjoy the pure nature and look the fauna of this protect area as wild rabbits, Andean foxes, deer, caracaras bird, Andean gull among others, after the horseback riding you go to Tambopaxi where you have the lunch in the unique restaurant located into the Cotopaxi National Park with a beautiful views of landscapes
.
Later you drive to Baños city, a beautiful and famous small city located at 1800m above sea level with privileged climate that offer adventure as rafting, zip line, cable car, canyoning, and hiking.
Dinner Included with a spectacular exhibition of fireworks! Overnight hotel Sangay.
Optional
Instead of Horseback riding, is possible practice bike riding in the Cotopaxi National Park.
Day 4: RAFTING-PAILON DEL DIABLO
Breakfast. Today you have an adventure practicing rafting sport, on the Amazonas River which is categorized 3 to 4 class, where you feel the adrenaline of the rapids of this rivers, after the rafting you drive to Rio Verde town where you have your lunch.
Also you visit Pavilion del Diablo waterfall, one of the most beautiful waterfall where you can feel the energy and the power of this, later you drive to your hotel in Baños city, along of the road to Baños city you can practice zip line (Not Included).
Dinner included, discotheque Night (optional)
Overnight Hotel Sangay
Day 5. BAÑOS-SALASACA COMMUNITY-ROSE FARM-QUITO
Breakfast. Today you go to visit an indigenous culture call "Salasaca" where you enjoy and learn the traditions and customs of them, as learn about medicinal plants, traditional drinks, and look the process when the women start spinning sheep's wool until men weave ponchos, scarfs, gloves, etc. in traditional looms, after that you drive to Salcedo where you have your lunch in a beautiful old hacienda call "Rumipamba de las Rosas"; later you go to visit a greenhouse of roses, as the roses of Ecuador are one of the best quality in the world; finally you will give back to Quito's city.
Dinner Included
Overnight Htl. Reina Isabel
Day 6. QUITO- GUANGO LODGE- PAPALLACTA-QUITO
Breakfast. Today you drive to Guango Lodge located couple hours from Quito's city, it is an exotic place for bird watching, here you can see many species of hummingbirds, tanagers, etc., after that you go to "Termas de Papallacta" where you have relaxed time to enjoys the naturals hot spring; in the afternoon you come back to Quito´s city to have your elegant farewell dinner in the "El Ventanal" restaurant with many surprises!
Dinner Included
Overnight Htl. Reina Isabel
Day 7. TRANFER OUT
Private transfer from your hotel to the International airport.
Russian speaking guide included